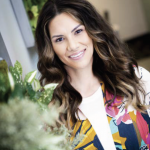 Steph Purpura is a wife, mother, entrepreneur, author, public speaker, and women's advocate. 
After surviving sexual abuse and a suicide attempt, Steph began picking up the pieces of her life to discover how she ended up so broken and alone. Through a combination of meditation, journaling, and affirmations she realized her own worth. She wanted more from life and now had the desire to make it happen. Soon after this was when she met James, the love of her life. Uniting through their shared goal of becoming the best versions of themselves, they began this new journey together.
With little to no resources, they dove headfirst into creating the lives they desire. Through painstaking trial and error, they developed their own philosophy that hinged on the study of perception and emotions. Utilizing their philosophy they transformed their lives and created more success than they ever dreamed possible. 
Shortly after getting married, Steph and James decided to have a family. Steph left the workforce in order to become a full-time mother. After many years of being a stay at home mom, she decided it was time to re-enter the workforce. She stepped in to help James manage the tech business they owned. After they built the business to become the industry leader worldwide, they sold the company to pursue their true passion.  Steph joins Mark for a stimulating discussion on how to change your life.
You can learn more about the Powerful-U program at: www.powerful-u.com
Listen to Steph and Mark Here:
Part 1
Part 2