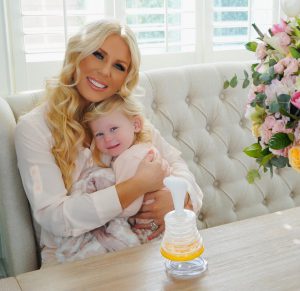 Choking is the fourth leading cause of accidental death: the LifeVac device has saved over 122 lives and counting and that is why Gretchen Rossi stands to share this message to the world.
When parenting young children, the fear of a choking incident is a daily threat and a very real one, as one child dies every five days from choking in the US alone. Sadly, abdominal thrusts work in only approximately 50% of cases prior to EMS arrival. The easy-to-use and proven LifeVac device is a patented choking first-aid device that travels easily wherever you go. The best gift you can give mom this Mother's Day is the gift of less worry and the security in knowing she can be there for her child in their greatest time of need.
"I believe in this life saving product and want to help change the statistics around choking," shares celebrity mom Gretchen Rossi. "I have a LifeVac at home and one in my car as well. I know I can be there for my one-year-old daughter if anything should ever happen, and it personally relieves so much worry for me."
For children and adults, LifeVac has saved lives worldwide, ranging in age from three to ninety-seven. LifeVac Founder and CEO Arthur Lih was inspired to develop LifeVac when he heard a tragic story of a mother losing her young son due to choking on a grape in 2011. Lih and his professional team of experts developed this patented life saving device. Today, LifeVac has received widespread media attention and has been published and recognized in several leading medical journals, four of which are peer-reviewed. Just visit LifeVac.net to read reviews from grateful users. Comments include: "Because of this device, my son is alive! Thank god!" and "LifeVac removed the food in less than 5 seconds
To all your viewers who can simply learn this basic life-saving rescue techniques and by owning a LifeVac we can all work together to end a senseless choking tragedy.
Visit www.LifeVac.net and be sure to follow them on @life_vac for more information.
Listen to Gretchen and Mark here: