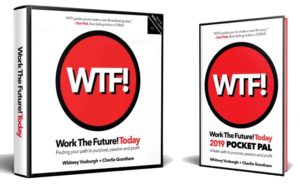 Mark Alyn speaks with Whitney Vosburgh who has worked with a wide range of companies throughout the world. He's noticed a growing sense of dissatisfaction and the desire of both leaders and employees to find greater meaning in their work. This widespread hunger for a new sense of fulfillment and the need for transformation to meet the challenges is more prevalent than ever.  Vosburgh offers a step-by-step path to filling this void with a new sense of shared purpose and value in which we need to transition from the old story of profit first to the new story of purpose, which is made possible by a three-part path, which he calls Working The Future! Today.
The old story of profit first needs to be replaced. What we need is a new story of purpose first. The old triple bottom line of profit, people, planet has taken many of us far. Now we need a new triple bottom line of planet, people, profit because if we have no planet, no people, and no people, no profit. In order for companies to accumulate wealth, they must not only share the wealth but also ultimately recognize the role of all parties in the co-creation of that wealth.
So many people lack meaning in their work and life, which is made dramatically evident by the rapid rise in our suicide rates, drug addictions, debilitating stress and lack of civic engagement.  People do not truly collaborate unless they know their best interests have been fully embraced. That is called shared purpose. Innovation is part of an interconnected chain of simultaneous events, factors, and influences including purpose, vision, and leadership, as well as inspiration, imagination, and invention; all that leads to shared value creation.  It's an exciting time to be part of this change.
Listen to Whitney and Mark:
Work The Future
Work The Future Part 2