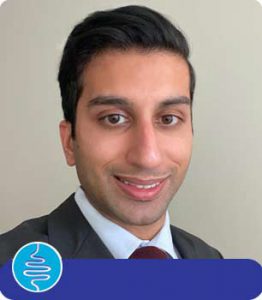 Gastroenterologist Abhijeet Waghray, MD talks with Mark Alyn about stomach issues. Tummy problems could be serious and Dr. Waghray explains during this conversation.
Gastroenterology is the branch of medicine focused on the digestive system and its disorders. Diseases affecting the gastrointestinal tract, which include the organs from mouth into anus, along the alimentary canal, are the focus of this specialty. Physicians practicing in this field are called gastroenterologists.
Dr. Waghray practices at Vanguard Gastroenterology, where they offer gastro consultations, clinical trials, colonoscopy procedure, upper endoscopy, screening colonoscopy, sigmoidoscopy exam, capsule endoscopy, ERCP, endoscopic ultrasound, integrative weight management, fecal microbiota transplantation and much more!
We discuss cutting edge gastroenterology including recent lowering of age to 45 for colon cancer screening, new treatments for inflammatory bowel disease (IBD), non-invasive treatment for hemorrhoids, fibroscan in fatty liver patients, and SIBO and irritable bowel syndrome treatments.
Dr. Waghray completed his Internal Medicine training at Case Western Reserve University where he also served as Chief Resident. He then completed his fellowship in Gastroenterology at Tufts Medical Center in Boston and completed a visiting fellow program in Inflammatory Bowel Disease at Beth Israel Deaconess Medical Center. Dr Waghray has published several peer reviewed journals and has a passion for offering patients care with the latest evidence-based practices in mind. Special interests include GERD/reflux, screening and prevention of colon cancer, Inflammatory Bowel Disease (ulcerative colitis and Crohn's disease), liver diseases (hepatitis, fatty liver), Irritable Bowel Syndrome and Hemorrhoid Ligation Therapy. Therapeutic expertise in upper endoscopy, colonoscopy, sigmoidoscopy, feeding tube placement (PEG tube), and capsule endoscopy.
Vanguard Gastroenterology serves patients from New York NY, Queens NY, Brooklyn NY, The Bronx NY, East Elmhurst NY, Ridgewood NY, Valley Stream NY, and Staten Island NY. For more information please visit www.gastro-nyc.com
Listen to Dr. Waghray and Mark here: