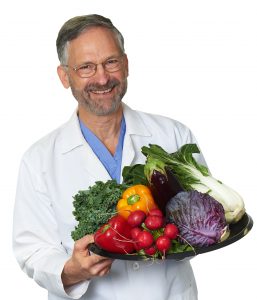 The Rochester Lifestyle Medicine Institute addresses the root causes of these lifestyle-based diseases and doesn't just treat the symptoms. We are dedicated to educating individuals about the power of a whole food plant-based diet and its proven ability to heal the body from within.
The American College of Lifestyle Medicine defines Lifestyle Medicine as the use of a whole food, plant-predominant dietary lifestyle, regular physical activity, restorative sleep, stress management, avoidance of risky substances and positive social connection as a primary therapeutic modality for treatment and reversal of chronic disease.
Dr. Ted Barnett dedicates his 35-year career to transforming the practice of medicine using the principles of Lifestyle Medicine and Plant-Based nutrition. At the Rochester Lifestyle Medicine Institute where he is the Founding President and Board Chair, Dr. Barnett's  24-CME Plant-Based nutrition course that features over 24 hours of live patient interaction and online instruction has reached nearly 1,000 people in Western New York. 
In addition, Dr. Barnett's highly successful immersive whole food, plant-based program has transformed the lives of hundreds of patients, helping them to lower their cholesterol, increase their energy levels, lose weight and prevent, arrest, and even reverse chronic disease, all though a scientifically proven whole-food, plant-based approach to eating.  
Board certified in Lifestyle Medicine, Dr. Barnett is a Fellow of the American College of Lifestyle Medicine and a member of ACLM's Board of Directors as well as the Chair of the organization's Type 2 Diabetes Remission Task Force. 
An interventional Radiologist, Mammographer, Body Imager, and senior partner with Borg and Ide Imaging in Rochester, New York, Ted is a graduate of Yale University (BS) and Tufts University (MD), is an avid birder and photographer, and he and his wife Carol are the parents of three adult children who are lifelong vegans.  
Listen to Dr. Barnett and Mark here: