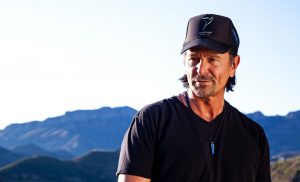 "Authenticity is key on the path to wholeness. On the journey from our head to our heart we unravel the truth, leave all social propaganda and life-limiting programming behind, and become who we really are. Tuning in means touching and healing one heart at a time and connecting hearts one after the other. There is no fakeness in the heart. With the Lovetuner®, and the miracle frequency of 528 Hz we can change the world." -Sigmar Berg
You'll hear more about Sigmar's beliefs and nearly life-long quest as he speaks with Late Night Health's Mark Alyn about One Journey: The Lovetuner Book and the Lovetuner ® in which he shares his personal spiritual path as a celestial instrument.
Sigmar has spent his life seeking to bring wellness and balance to the world through art, design, and conscious consumerism, which brings him to his most exciting venture yet: the Lovetuner. After years of seeking, learning, researching, and gathering knowledge from all fields of life and from all over the world, Sigmar is impassioned to introduce the Lovetuner to the world. We are living in a time of great chaos, division, and instability, but also one which has created an incredible opportunity for change.
During this journey, Sigmar started the Lovetuner® movement. The Lovetuner® is a unique instrument that helps people become their own guru and makes meditation and breathwork easy, even for those who have struggled with either.
Sigmar's altruistic mission is to bring healing and love to the world. The Lovetuner transcends all cultures, religions, politics, and emotional wounds by opening the door to personal healing by way of the 528hz frequency, also known as the love vibration. The Lovetuner brings the ancient art of sound healing to today's world through an easily accessible, mindfulness tool. Through this new and transformative tool, Sigmar hopes to heal the world through spiritual and physical attunement, mindfulness, and a stepped path to renewal and growth for every human.
Thanks to the commercial success of Lovetuner®, Berg established the Lovetuner® Foundation, a nonprofit organization that promote wellness and healing. The Foundation has a three-pronged focus: to bring the Lovetuner® product to schools as a tool to help students and teachers overcome stress and anxiety; to assist in the relief of PTSD and suicide prevention within the Veterans' community; and to sponsor retreats for underprivileged children, aimed at overcoming trauma, building unity and promoting healing.
Learn more at https://www.lovetuner.com/. One Journey is available for purchase on Amazon, https://www.amazon.com/LOVETUNER.
Listen to Sigmar and Mark here: