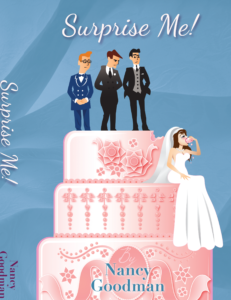 Inspired by her fictional novel, Surprise Me, about a surprise party planner who hates surprises, Goodman describes her award winning film of the same name as a "Romantic Comedy Diet". Written, produced and directed by Goodman, she sees the film as her crusade to help women turn their focus from dieting (which she calls a set up to binge and overeat) to their feelings, choices, strength, pain, joy, goals, and new passions beyond their taste buds.
Of all mental illnesses, eating disorders represent the highest cause of death. 45 million Americans diet every year. 25 million women binge. "Surprise Me is the first romantic comedy that looks at what is behind emotional eating and how it affects our decisions, lives and love. The movie's intention is to start a conversation about the food and weight obsessions existing in our country," she states.
My strategies to manage emotional eating and binging, led to the book and
movie. Through therapy, I learned to use cravings as a radar detector for feelings I was not aware of. Catching the feelings before they send us to food is the "diet."
"When we turn our back on cravings, not only do we set ourselves up to overeat and binge, but we're essentially running from our feelings. Listen to your cravings. Feel your feelings. Make all food and life choices from there. It's the winning weight loss and life management combo," she advised.
Here is the film trailer: https://www.youtube.com/watch?v=iIORerKGXhU
Links to more about the film and Goodman: http://surprisemethemovie.com/the-film/
Surprise Me – The Movie
Surprise Me – The Movie Part 2