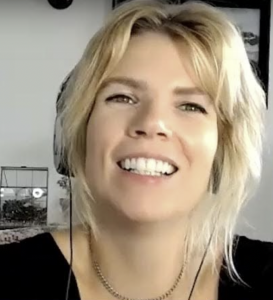 The internet was built on sex, and ever since, sex has remained its through line. Samantha Cole, a senior editor at Vice Media's tech outlet Motherboard and the journalist who broke the story on deepfakes, details this essential connection in How Sex Changed the Internet and the Internet Changed Sex: An Unexpected History [Workman Publishing; On sale November 15, 2022; Hardcover with dust jacket; $30.00 USD].
In this highly visual cultural history, Cole explains how sex influenced the development of the internet we all use today, from shopping carts to the browser cookie to ad revenue models, to payment processors, to the dynamic web page. Cole, through meticulous research and in-depth interviews with sex workers, porn scholars, cam girls, early internet pioneers and tech innovators, illustrates the push-and-pull relationship between the internet and sex—the simultaneous search for freedom and greed, lust and safety.
In How Sex Changed the Internet, readers will learn about:
How aPlayboy centerfold image advanced bitmapping technology—a process that allows us to see every image and video on the web.
How the first videoconferencing technology was created for and debuted at an adult- entertainment conference.
The pervasive racism, fatphobia, andsex negativity embedded into algorithms, and on social media websites we all use every day.
How virtual chat rooms allowed people to assume other identities and explore the fluidity of gender and sexuality in meaningful relationships that were, up until then, impossible to do in real life due to prejudice and stigma.
The ways people used pre-World Wide Web bulletin board systems to connect, such as thetrans activist nun Sister Mary Elizabeth Clark, who disseminated lifesaving and cutting-edge information about HIV/AIDS through BBS.
How technocratic billionaires and politicians weaponize internet safety, constricting online sex work and decreasing safety for primarily BIPOC and LGBTQ+ sex workers.
The history of online sex toy retailers and money boom of porn tube sites.
One of the few journalists researching sex online as vigorously as reporters covering Google or Facebook, Cole demonstrates how the way we defend or concede the right to sexual expression online, the way the internet is designed, and how we decide who gets to participate in online spaces shape our lives away from the keyboard, including its costs.
About Samantha Cole: 
Samantha Cole is a senior editor for Motherboard, Vice Media's science and technology outlet, where she covers sexuality, online culture, platforms, and the adult industry. Born on Maryland's eastern shore, Sam's decade in journalism spans from hyper-local newspapers to national and international outlets including Popular Science, Fast Company, and Al Jazeera. In 2020, she was nominated for a Writers Guild Award for best digital news coverage. In her spare time, Sam can be found biking around Brooklyn, stress-baking, and spelunking into internet subcultures.
Watch Samatha and Mark here: