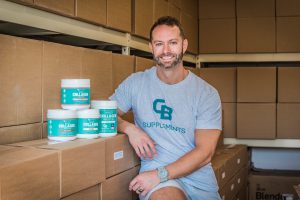 Charlie Bailes is the CEO & founder of CB Supplements, a company specializing in helping people thrive with multi-collagen protein products. As a collagen expert, he talks about its nutrition benefits to help people solve various health issues from joint recovery and productivity to even sleeping better at night. He's also a husband, a dad of 3, a crossfitter, and a health nut (obviously). He loves meeting new people and having meaningful conversations. His main goal is to inspire others to act to help themselves.
In 2014, Charlie's daughter Vivian was sick more often than not. Though she wasn't diagnosed with a terminal disease, they visited the hospital too often. Charlie and his wife were at a breaking point so they turned to research, discovered the benefits of collagen, and that has led to Vivian getting well and the beginning of CB Supplements. Charlie shares his story and teaches about the positive life-changing collagen benefits. Charlie visits with Mark Alyn on this episode of Late Night Health.
Collagen doesn't improve only skin, nails, and hair as the majority of people think. Charlie teaches  about other positive benefits of collagen such as recovery, sleep, digestive health, and much more. All backed by science and/or case studies from his customers and family members.
Charlie's been able to fix his digestive problems in just 3 days by using collagen and it's also #1 benefit reported by hundreds of CB supplements customers. And even though most of the benefits are scientifically proven, Charlie can describe them in a very easy-to-digest (no pun intended) way, everyone will understand. Learn more about collagen here: www.cbsupplements.com
Listen to Charlie and Mark here:
And watch them here: