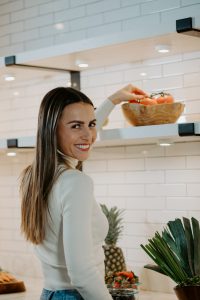 Carolina Schneider, MS, RD, a registered dietitian known as "Carolina the Green RD" says the farm bill's Supplemental Nutrition Assistance Program (SNAP) – formally known as food stamps – provides vital assistance to millions of disadvantaged Americans to ensure that all people have access to nutritious food, however there are some crucial nutrition gaps that demand attention from Congress that voters can elevate to advocate for an updated farm bill to improve SNAP and enhance the program's quality and nutritional offerings for all Americans. Carolina visits with Mark Alyn on this episode of late Night Health.
Some points
• Why We Need the Farm Bill: The farm bill is a matter of concern when it comes to nutrition because it plays a crucial role in shaping food and agricultural policies in the United States. The bill influences various aspects of our food system, including agricultural production, food access, nutrition programs, and public health.
• The farm bill includes provisions for nutrition assistance programs like the Supplemental Nutrition Assistance Program (SNAP), which helps millions of low-income individuals and families access nutritious food. Changes in funding, eligibility criteria, and program structure within the bill can have direct implications for the food security and well-being of vulnerable populations.
• Many children and families are dependent on SNAP benefits so nutritional options should be a top priority.
• The Farm Bill can promote or hinder the development of local and regional food systems. By supporting initiatives that increase access to fresh, locally sourced foods, the bill can contribute to healthier diets and stronger local economies.
Add Vitamin D Supplementation: Recent data published since the pandemic clearly highlights the critical role of vitamin D in addressing numerous health concerns. However, to meet therapeutic vitamin D levels of 40-60 ng/ml, SNAP falls short in providing solutions. Something as simple as adding vitamin D3 supplements to SNAP offers recipients a solution to address a range of health challenges faced by families, including preterm births, depression, respiratory infections, asthma, cancer, and chronic diseases like cardiovascular issues, high blood pressure, and Type 2 diabetes.
Sun exposure can be impractical. Especially when we are told to wear sunscreen.
• People of color face elevated risk due to melanin blocking vitamin D absorption, making them more susceptible to chronic diseases and COVID-19 complications.
• Some individuals may have dietary restrictions or preferences that limit their intake of foods naturally rich in vitamin D, such as fatty fish (salmon, mackerel), egg yolks, and fortified dairy products (i.e. vegans). This can make it challenging to obtain sufficient vitamin D solely through food sources.
• You can easily ask your elected officials of Congress to add vitamin D3 to the farm bill at: www.All4VitaminD.com• Shop at Local Independent Grocers and Natural Product Stores: Independent grocery stores and natural product stores can serve as community gathering spaces, fostering a sense of belonging and connection. They may host events on nutrition, provide more personalized advice on nutrition choices, and provide a gathering place for neighbors to interact with one another.
• Independent grocers and natural product stores typically prioritize customer service and foster a more personalized shopping experience. They often develop relationships with customers, offering tailored recommendations, addressing specific dietary needs, and providing a more attentive and friendly atmosphere.
• Independent grocers and natural product stores often prioritize sourcing products from local farmers, producers, and suppliers. By purchasing from independent grocers, you contribute to the support and sustainability of local food systems, reducing the reliance on long-distance transportation and supporting local agricultural businesses.
• You can Google 'Natural Grocers Directory' or 'INFRA Store Directory' to find an independent grocer and natural product store near you.
Listen to Carolina and Mark here: