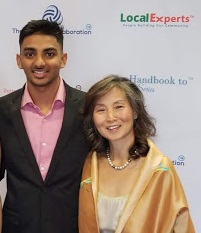 Master Teresa Yeung is an internationally recognized Master of Chi Gong, speaker, healer and bestselling author who speaks on how to achieve your physical, emotional and spiritual balance with Chi Gong. She is the founder of Pureland Qi Gong® World Organization and The Seventh Happiness® School of Chi Gong, a certified private institution. She is the sole successor of Grandmaster Weizhao Wu's lineage. Wu was a distinquished Chi Gong master, educator and creator of the highly successful Wu's Eye Qi Gong helped millions of people. She is also approved by the U.S.A. National Certification Commission for Acupuncturists and Oriental Medicine (NCCAOM), as a continuing education professional development activity (PDA) provider.
Handbook of Holistic Health 3: A self-help guide to live a Happy, Healthy and Wealthy!
The Handbook to Holistic Health™, features a line up of 21 Award Winning Authors from various Health and Wellness backgrounds.  Yet, all of them have one common message to share with you.  What is that message?  There is an alternative, natural, holistic solution to your health issues. Most importantly, the authors are all against taking routine prescription medication, both for its obvious 'side-effects' and the potentially significant financial burden for your entire family.   Joining Master Teresa and MarkAlyn is Raymond Harlall, entrepreneur,  founder of Local Experts Group and the publisher of the Handbook to Holistic Health.  Raymond recently received the Global Author Award in London UK. Master Teresa and Raymond chat with Mark Alyn for a discussion on why holistic health is becoming so popular.
Learn more about Master Teresa and the new book at  www.h3book.com or www.facebook.com/MasterTeresa
Handbook Part 1
Handbook Part 2