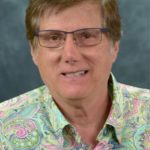 From a global traveler to a psychic healer to becoming a millionaire to leading personal growth workshops to publishing over 2,500 poems, 14 books, and two opera librettos, Neal Grace's breadth of experience helps us tune in to the wonders of life, and the uniqueness of who we are.
A life lived with unusual experiences, combined with a poet's creativity led Neal Grace, author of FRESH EYES UPON THE WORLD: Making Life a Spectacular Journey, (Grizzly Peak Press – June 11, 2019), to offer a positive, uplifting message on personal transformation that can help heal the negativity in our current world.
Some people develop their life's philosophy by studying the great philosophers, Neal developed his by living passionately. He traveled to 35 countries, spending time in a psychiatric ward, and wandering Moscow at night while eluding the KGB. He worked at over 50 different jobs and was nearly destitute for many years before becoming a millionaire. A limitless curiosity about the nature of life led to his travels and the development of his personal philosophy, which he calls Love of Life.
"Just one boat you sail through life…on a destiny where you are the sole master."
Neal Grace
During his many travels, Neal developed a passion for writing poems. He entertained his fellow travelers and became a performance poet at venues across the globe.
"Neal Grace's book is an inspiration of powerful insights blended with delicate hues of wisdom. It is a book to keep close like a loyal friend…"
Dr. Will Tuttle, Author of the international best seller, The World Peace Diet
After self-publishing several poetry books and notecards, Neal embarked on a 9,000 mile journey selling 3,000 books and 45,000 cards out of his van.
Stressing that we all can rise up to our full potential if we just ask the right questions, he offers key questions and answers in his book which is divided into four main areas.
Self-Empowerment & Relationships
Hotly Debated Issues
The World & Nature
Spirituality & Philosophy
Believing that buried deep within our minds are the secrets to a better understanding of
the seemingly intractable problems that lie within us, Neal hopes his suggested remedies for the average overworked and stressed out person will lead to serenity, optimism, and a more fulfilled, abundant, and joyful life.
Additional Advance Praise:
"…As you use Neal's wisdom to illuminate your own journey, you'll find yourself thinking more deeply about every aspect of your life and the planet we share together. This wonderful book will leave you enriched and more aware of the potential that a consciously lived life represents."
Dawson Church, PhD, Author of the award-winning science book Mind To Matter: The Astonishing Science Of How Your Brain Creates Material Reality
"Fresh Eyes Upon The World is a must read for everyone! I can open any page and find thought-provoking revelations that apply to me on my life's journey. This book gives…a clear understanding and inspiration to handle all situations in life!"
Reverend Luzette Celeste McDonald, Co-Founder of the Telos Healing Center
ABOUT THE AUTHOR:
Neal Grace has always followed different paths to discover unexplored frontiers—from living in the woods for months, to traveling with a backpack around the world, to forging a career in the business world that made him a millionaire. A passionate observer, Neal began chronicling his experiences. Inspiring others to live freely and creatively, he has performed at various venues including Grace Cathedral in San Francisco. He has authored 2,500 poems, two opera librettos, and FRESH EYES UPON THE WORLD is his 15th book. His recent Supreme Master Television interview will be seen in over 35 countries and translated into 12 different languages. He and his wife live in Marin County, California.
Neal visits with Mark Alyn to share his story.
Fresh Eyes 
Fresh Eyes – Part 2