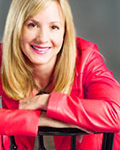 What are your belly habits? This is a question our guest on Late Night Health, Sherry Torkos B.Sc.Phm., R. Ph., holistic pharmacist and author of more than a dozen books on natural health says many people don't know the answer to. As many pharmacists are, she is on the receiving end of a lot of questions from patients who may not know if and when a doctor's visit is in order. One easy way we can maintain our health is by practicing healthy belly habits on a day-to-day basis.
With everything we eat passing throughout the gut, it is important that our gut is prepared for good digestion with the help of friendly gut bacteria. If you do not have enough good bacteria, an imbalance can occur known as dysbiosis which is commonly linked to insulin resistance, weight gain, inflammation, allergies, inflammatory bowel disease, and colorectal cancer.
Sherry Torkos shares some eat, move and chill healthy belly habits to incorporate and also warns of belly busters to break. She says including prebiotics and probiotics can help and can answer your personal probiotic questions at:   www.probiotics.com.
Sherry Torkos, B.Sc.Phm., R.Ph., is a pharmacist, author, certified fitness instructor and health enthusiast who enjoys sharing her passion with others. She graduated with honors from the Philadelphia College of Pharmacy and Science in 1992. Since that time she has been practicing holistic pharmacy in the Niagara region of Ontario. Her philosophy of practice is to integrate conventional and complementary therapies to optimize health and prevent disease. Torkos has won several national pharmacy awards for providing excellence in patient care. As a leading health expert, she has delivered hundreds of lectures to medical professionals and the public. Torkos is frequently interviewed on news shows throughout North America and abroad. She has authored 18 books and booklets, including, "Saving Women's Hearts," "The Canadian Encyclopedia of Natural Medicine" and "The Glycemic Index Made Simple."
Learn more about Sherry at: www.sherrytorkos.com 
Mark Alyn, host of Late Night Health, discuss this and other useful gut health tips with holistic pharmacist Sherry Torkos so you can improve your gut health!
Listen to Sherry and Mark here:
Part 1
Part 2