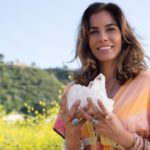 Transform and energize your everyday life with Crystal365 (available November 12, 2019), an essential guide for crystals to be used throughout the year. Co-author of Crystal Muse and co-founder of Energy Muse, Heather Askinosie, provides an abundance of key information to connect with the transformative energy of crystals.
The 52 crystals in this book can help you 365 days a year. These precious stones have been carefully chosen as the most powerful and effective, yet simple, tools to help you in your unique life. Crystal365removes the guesswork by showing you how to use one crystal for one purpose with one practice. Additionally, this book includes crystal combinations for intentions, including love, wealth, creativity, and happiness.
Whether you are an avid crystal fan or just beginning, working with crystals doesn't have to be complicated. Crystal365will help you to incorporate crystals into your daily life in a more meaningful and conscious way with action plans that can be personalized to your own style and goals for transformation.
Heather Askinosie is the co-founder of the Energy Muse, a leading provider of healing crystals and crystal jewelry, along with her business partner Timmi Jandro.
Heather is a leading influencer on the power of crystals, Feng Shui, and holistic healing. For over 30 years, she has had the privilege of studying with the best healers from all over the world, who have passed down ancient teachings on how to utilize energy technology. In 2000, Heather co-founded Energy Muse with Timmi, who uses her years of sales experience in the garment industry to focus on the growth and development side of Energy Muse.
Heather and Timmi authored the book, Crystal Muse, Everyday Rituals to Tune into the Real You(Hay House, 2017), and Heather's debut solo book, CRYSTAL365 is launching on November 12, 2019.CRYSTAL365is a full-color "instgrammable" guide to 52 crystals, including crystal combinations and rituals to elevate your everyday life. It takes Heather's 30 years of research from around the world and breaks it down into a tangible, digestible, guide of all things crystals.
Energy Muse has designed crystal jewelry for their wildly popular following, which includes celebrity fans like Lena Dunham, David Beckham, Tony Robbins, Molly Sims, Phil Jackson and more. They have also been featured in media outlets such as People, InStyle, Refinery29, Well+Good, MindBodyGreen, Cosmopolitan, Forbes and more.
You can learn more about Heather and Energy Muse online at www.energymuse.com.
Crystal365 
Crystal365 Part 2